"Morgan O'Kane is New York's banjo-playing, tambourine-toting, hillbilly-punk journeyman."  2013 
Narrative.ly 
 / Patrick Flanary a regular contributor at Rolling Stone and Billboard, has also covered music and politics for Entertainment Weekly, ProPublica and The Huffington Post. 
The One They Call The Wind
(2014)
Song Preview - Monarchs
American Songwriter March, 2014
Song of the Week - Daragh's Kitchen The Bluegrass Situation  March, 2014
"...he masterfully combines flawless banjo with mystical vocals." - 
"The One They Call The Wind is an extension of its very impressive predecessor, Pendulum,  but on all fronts even slightly better....Morgan O'Kane plays with his heart and that you hear." -  Erwin Zijleman/ 
de krenten uit de pop nl
"I had never heard of Morgan O'Kane at all....but this is great. Subtle, musical folk and roots music, lots of great banjo sounds, a few solid songs that stick in your craw a bit. If you dig the sort of interesting ways some bluegrass/folk musicians are expanding their musical palatte, this is absolutely for you. Definitely give this one a listen." If Its Too Loud
Pendulum (2012)
JUNE 2012 – PENDULUM DEBUTS AT #4 ON THE EURO AMERICANA CHARTS
JULY 2012 -  PENDULUM HOLDS #4 SPOT ON THE EURO AMERICANA CHARTSPENDULUM gets 4/5 stars in Dutch Music Mag LUST FOR LIFE! June 2012 " Morgan O'Kane is a phenomenon…raw and intense..he revives old heroes of traditional music while hypnotically channeling the heartbeat of the country. Fiercely, together with Ezekiel Healy, Ferd Moyse, Leyla McCalla as though they come from a deep and dark past of a not yet mapped out American mountain scene"
Henry De Jong (translated from Dutch)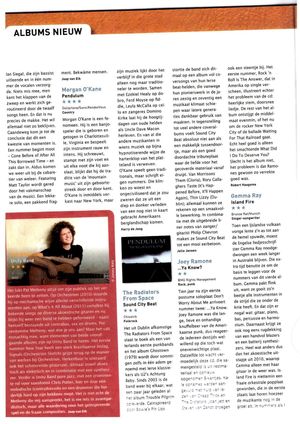 "If Dan Tyminski were to challenge Ravi Shankar to duelling banjos on the neutral ground of a Scottish Kayleigh…Pendulum could well be the outcome.
The album is a collection of 14 songs from banjo player extraordinaire Morgan O'Kane, who must surely be to the banjo, what Joe Satriani is to the electric guitar. Yes, if there was a prize for banjo shredding it would, without question, be on O'Kane's mantelpiece. "
– Pete Whalley www.getreadytorock.com/ UK - May 2012
"Ace dirty banjo man trawls the dark side…Its O'Kane's banjo and vocal that dominate what is an intense and superb set"  7/10  
Americana-UK June 2012
"...he's like an oldtimer folk legend back from the dead."
FolkRadioUK
"Brooklyn's Banjo King...." 
The IndIe Artist Podcast
MORGAN O'Kane "Pendulum" (Dollartone / Sonic Rendezvous) (4.5 *****) Altcountry.be (google translate)
"Morgan O'Kane is a downright phenomenon. A real natural phenomenon! …. immediately speaks heavily to the imagination. ….the mad musical passion. His songs are raw, his singing game and his game on both banjo and mandolin at once inventive and very energetic…Old foundations cracking under his revolutionary hammering on their own particular banjo. Bluegrass sounded really never so intense as here. In a production of Vic Thrill and further including the necessary helping hand services Ferd Moyse of the Hackensaw Boys on fiddle, the recently named the Carolina Chocolate Drops joined Leyla McCalla on cello, Ezekiel Healy on dobro, Liam Crill with spoons, JR Hankins on flugelhorn and Domino Kirke additional vocals O'Kane takes the genre to speak again. That may all sound a little exaggerated, but it certainly is not! Listen for yourself …With the fourteen songs on this second of O'Kane, the roof just off of! We're deeply impressed!…""In all the songs Morgan demonstrates a deep knowledge of human frailties and motivations….a sweaty, salty and passion imbued primer….Morgan's rough voice, haunting vocals and virtuoso string music awakens the spirits of the old world and transposes them to his own time"
Rootstime.be May 2012
"...it will soon become one of the essential albums in the collection of any one who cares about music with a bit of heart, a bit of soul and a bit of feeling. This album should come with a warning: once you let it get under your skin you'll not get it out again."
Fatea Review / John Hates
"After hearing the first few songs on this self-composed fourteen track CD it struck me that this music was to bluegrass and old timey what punk was to rock in the late Seventies. "  
Ian Spafford /  www.Stirrings.org.uk
NINE LIVES (2010)
"the musicians are enthusiastic and their chops are solid – especially banjo virtuoso Morgan O'Kane"
June 15, 2011 NOW Toronto, Norman Wilner (excerpt from Film review of Below New York)
MOJO. yup. That one.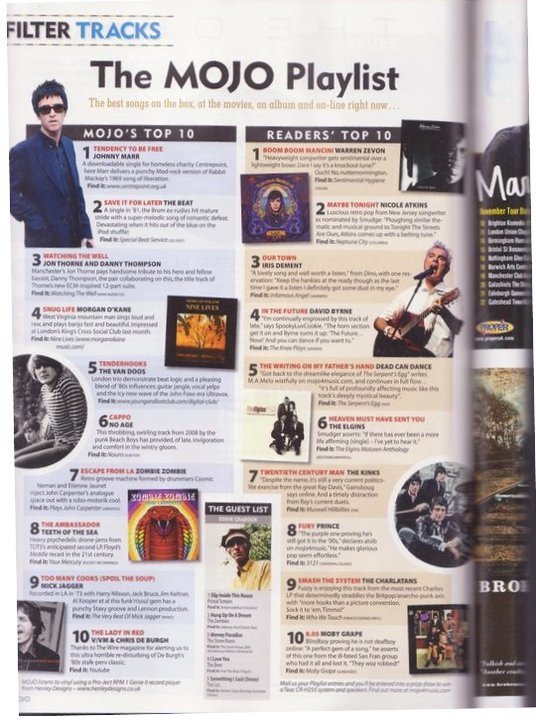 MOJO magazine Top Ten playlist in the December 2010 issue

"The best songs on the box, at the movies,on album and online right now"…includes "Snug Life", Morgan O'Kane as #4," West Virginia mountain man sings loud and raw and plays banjo fast and beautiful. Impressed at London's King's Cross Social Club last month""If Jimi Hendrix played the banjo, he might resemble O'Kane, a high-intensity musician who looks like a mechanic in a rural gas station, sings like a man possessed and plays mountain music like it was an avalanche. He received a rousing standing ovation and finally deferred to shouts of "one more song." No music event worthy of the festival moniker is without artistic surprises and O'Kane was one of Hillside's great, ear-tingling surprises this year." 
Robert Reid, The Record July 26, 2010
Morgan O'Kane – Nine Lives
"Could a banjo revolution be underway? With Old Man Luedecke bringing the instrument some mainstream attention in Canada, he's now got some hefty competition from O'Kane, a Virginia native who's partly built his reputation playing in the New York subway. What is most immediately apparent on Nine Lives, O'Kane's debut album, is the sheerforce of his banjo playing ability. On tracks such as "Time" and"Tallulah May" he is able to lay down a relentless groove that bringsthe banjo back to its pre-bluegrass origins as a true rhythm instrument. In fact, everything about O'Kane seems out of time, from the subtle Irish overtones in his style, to his gruff, shouted vocals. Nine Lives is simply a stunning glimpse of an artist destined to make a mark in the Americana field in short order."
Jason Schneider, Exclaim! May,2010
"We are talking sheer joy here. Blow the roof off intensity. Gonzo spirit meets articulately flying fingers…OH!"
Feb. 2010/Jessie Scott, Musicfog.com
"the groove is mesmerizing and deep, featuring his homemade brand of banjo virtuosity that leaves other players scratching their heads."
Feb. 2010, Ben Sollee/ Buzzgrinder
"Brooklyn-based O'Kane's music does not need kick-starting. This is mountain music that makes your feet want to move. Great banjo playing with a side of raw and rough vocals, often set just a little behind the music, giving the arrangements their gutsy, authentic feel. His songs are a curious mix of Appalachian Folk, Bluegrass, and Zydeco. This upbeat debut album is highly recommended if you like organic mountain music. It's hard not to be a fan of this kind of music when it's done with such skill by talented performers like Morgan O'Kane."
May 2010/ Callitfolk 
"A hugely enjoyable album with a definite feel good factor"
May 2010 / UK's themusiccritic.com
" a true banjo virtuoso…exudes vitality…an unbridled sense of freedom seeps through every track"
Apr. 2010/ rootstime.be
"Banjo genius Morgan O'Kane's performances dazzled and surprised"
Feb. 2010/ Pete Knapp – Shuteye Records
"Amazing"
Mar. 2010/ Warren Catlett – Radio free Americana
"These guys are wicked!"
Oct. 2009 /Steve Finnerty – Alabama 3
"Morgan O'Kane is an extremely talented Americana banjo player and singer, who combines technical skill with phenomenal energy and a raw punk attitude. He is a one man festival waiting to happen… during his three days at our festival he was omnipresent – playing at car crash speed and singing like his life depended on it, at any time of the day or night, with any musician who could keep up with him, from German ska bands to Irish trad outfits, and creating an instant party wherever he went. We'd have him back anytime."
Jan. 2010/ Kieran Gilmore – OPEN HOUSE FESTIVAL Belfast,N.I.
"If Uncle Dave Macon married Bruce Springsteen their love child would be Morgan O'Kane"
May 2010 / Michael Jonathan, Woodsongs Old Time Radio Hour
" ..a brave and engaging album"
May 2010 / Emilio Mera, Roots Highway-Italy